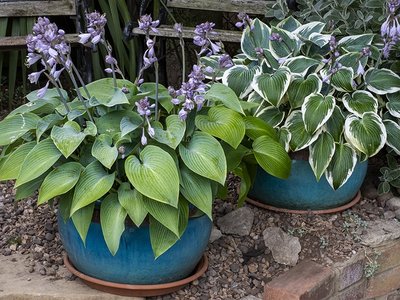 Brighten up a shady spot in the garden with a colourful planter and bring some colour to parts of your garden where there's little sun. There are many plants with beautiful colours and textures for a shady area and if you choose the right plants for the right place, you'll be amazed how you'll add interest to a dull corner.
Colourful shade pot garden ideas in green
Why not mimic nature and create a container with contrasting shades of green? When we think of colour in the garden, it's often the brighter colours that we think of, but combining different shades of green can create beautiful displays. Consider plants like Euphorbia, Ivy, Ferns and Hostas for a container full of green interest for a shady corner.
Use textures to create a colourful pot for a shady area
Some of the most stunning displays focus on texture for visual impact. Consider plants such as
Lambs ear (Stachys) which tolerates a little shade and has a velvety feel
Lady's Mantle (Alchemilla mollis) has frothy green flowers and soft foliage
Male Fern (Dryopteris filix-mas), with its intricate lacy leaves
Colourful shade pot garden ideas for a calm, cool look
If you're designing a pot that'll give you a calm feeling, we suggest that you choose greens, white and light colours. For a serene look, consider:
False goatsbeard (Astilbe) in white
Solomon's seal (Polygonatum x hybridum)
Underplant with some bulbs such as Snowdrops (Galanthus) or white Muscari aucheri 'White Magic' (available from August/September)
Heuchera or Tiarella with a wide range of foliage colours
These are just a few suggestions for creating a planter that'll brighten up a shady corner and make you smile each time you pass by. For more help and advice about shade-loving plants pop in and have a chat with the Merryhatton plant team - they're always delighted to help you get the best results!