Plants for shade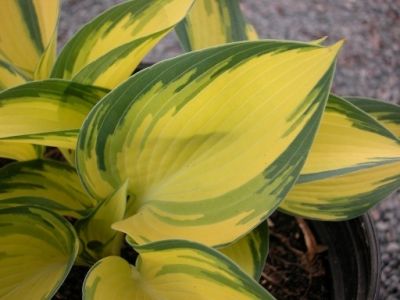 Most gardens have a shady spot: a north-facing wall, perhaps, or under a tree, or in the shadow of a nearby building. Learn to love your shade: you'll find a world of new plants opens up, and you get a cool, pleasant nook to sit out of the heat of the day: perfect for enjoying an iced drink after a hot session gardening.
At Merryhatton we have a wide range of plants for shady areas and we've picked our top ten shade-loving plants to give you some ideas about how to turn your shady bits into garden highlights.
Hostas
There's an ever-wider choice of bold, broad-leaved hostas, from beefy ribbed 'Sum and Substance' to white-splashed 'Fire and Ice'. Hostas are generally planted for their fabulous broadleaved foliage, but they can also produce unusual flowers in summer. Typical of herbaceous perennials, Hostas die back in autumn and 'hibernate' under ground over winter until it's time to pop up again in spring.

Ferns
With their delicate fronds and arching structures, ferns are generally very easy to grow and are not particularly affected by pests and disease making them a wonderful addition to damp shady spots. They were very popular with well-off Victorians who created ferneries in their gardens to hold their collections of ferns. Ferns can be evergreen, semi-evergreen or non-evergreen.
Amongst our favourites are the low-growing, non-evergreen Athyrium niponicum 'Pictum' (Japanese Painted Fern) with it's silvery leaves and the semi-evergreen Dryopteris cristata (Crested Woodfern)
.
Digitalis (Foxgloves)
Living wild in woodland, foxgloves love dappled shade. Grow common foxglove from seed in purple or white, or try some of the eyecatching modern hybrids such as the Digitalis Illumination series

Epimedium
Among the prettiest spring woodlanders, the young emerging leaves in shades of copper are almost as lovely as the dancing flowers. We particularly like Epimedium 'Pink Elf', a relatively low-growing variety with beautifully flushed foliage.

Pachysandra terminalis
A really useful ground-cover plant with a dense covering of evergreen leaves that grow even in the deepest shade. Also available as a variegated variety.

Euonymus
This easy to grow, hardy evergreen shrub that is tolerant of shade is one of our most popular plants. We find that Euonymus 'Emerald Gaiety' - a green and white variegated shrub - and Euonymus 'Emerald n Gold' - a green and gold variegated shrub are two of the most useful plants that provide year round interest simply by having such striking foliage.

Herbaceous geraniums
Very different from the popular large-flowered bedding geraniums, the herbaceous geraniums tend to have smaller, more prolific flowers. They're non-evergreen (which means they die back and 'hibernate' underground in the colder months) and come back bigger and better every spring. Different varieties have different shade tolerances. A couple of our favourites are the old-fashions Geranium 'Johnsons Blue' which produces lovely blue flowers throughout the summer and the compact, low-growing Geranium 'Ballerina' which has masses of smallish pink/white flowers.

Heuchera
A real favourite of the plants team for their versatility, hardiness and fabulous foliage colours. These plants retain their leaves throughout the year, bringing interest to the winter garden. Like the Hostas, Heucheras are prized for their foliage although they do produce upright sprays of small flowers in summer. The Heuchera 'Palace Purple' is one of the best-known varieties with large, deep purple foliage, but you might like to think about Heuchera 'Fire Alarm' with striking red/orange/fiery coloured foliage or Heuchera 'Lime Marmalade' with its amazingly bright lime-yellow leaves.
At Merryhatton we often dedicate a corner to the plants best suited for shade and you'll find our plant team are always happy to chat with customers to help them find the best plants for their gardens.