Speedy veg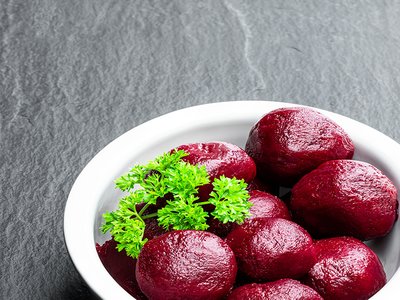 When you're just starting out, full of enthusiasm and keen to get going, it can seem an age to wait before you pick the first fruits of all your hard work. And it's true that some crops, like purple-sprouting broccoli or parsnips, can take all year to mature to harvesting stage – mind you, it's well worth the wait.
Luckily there are loads of fantastic quick-crop vegetables to grow and eat while the slowcoaches are getting going, so sow these and you'll have plenty to harvest in the meantime. This is fast food with flavour, freshly-harvested produce which arrives on your table within as little as a fortnight after sowing.
Beetroot: young beetroot leaves have beautiful colouring and a richly earthy flavour just like the roots. Pick them from about four weeks after sowing, then after eight weeks pull the tender baby roots at golfball size.

Our customer favourites include 'Boltardy' and 'Detroit 2'

Radish: The quickest results on the plot, with seedlings showing in days and perfect, spherical roots in just a few weeks. Pick young and re-sow half a row every few weeks for a constant supply.

Popular varieties include 'Sparkler', 'French Breakfast' or 'Lucia'.

Rocket: The name gives it away – scatter seeds and you'll have peppery baby leaves for your plate within a fortnight. Sow when it's cool or it'll bolt (mind you, the flowers taste lovely, too). Many varieties available depending on your taste, but

Rocket 'Gourmet' has been specially bred for UK growing conditions.

Spinach: Treat spinach as baby leaves for salads and you can harvest them within around three weeks from sowing. They last ages – you can expect to pick over each plant several times.

Customer favourites include Spinach 'Apollo' and Spinach Beet, the perpetual spinach.

Turnips: The best-kept secret on the veg patch, turnips give you a double harvest. Pick leafy green tops from three weeks after sowing. Thin alternately as the turnips grow, and you can enjoy delicately-flavoured roots at golfball size from just five weeks old.

Popular varieties include 'Purple Top Milan', 'Snowball'.
There's so much to choose from, and if you need some help our plant team are always very happy to talk about plants and gardening!