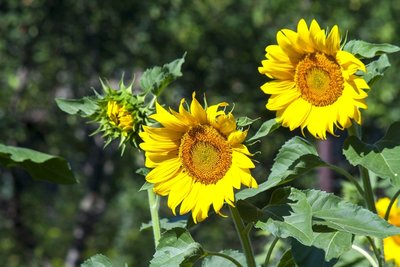 Knowing how to grow Sunflowers will mean you can have giant, beautiful sunflowers bringing so much joy to your garden every year. Sunflowers are easy to grow and a great way to introduce kids to gardening. They're perfect for pollinators and you can even harvest the seeds to sow the following year! Why not compete between your friends to see who can grow the tallest Sunflower or even the most unusual? You'll be amazed at how many different varieties, shapes and colours there are to choose from.
Sow and care guide to growing Sunflowers
As you would expect, Sunflowers need plenty of sun! As they grow, you will notice how they turn towards the sun to get the most rays. You can sow seeds in modules or small pots during early spring to protect them from frosts and transplant them into the ground when all frosts have passed. Alternatively, you can sow directly into the ground once the temperatures are a little warmer. Keep the soil moist, and you should see good germination rates. The stems can get tall fast and may start to curl or fall down if they aren't supported, so use a small cane and gently replace it with something more sturdy as they grow taller. Some may be able to support themselves, but we do get strong winds in East Lothian so it's probably best to support them rather than lose your beautiful flowers.
Keep these easy to grow plants watered, especially in dry spells and enjoy their sunny faces.
How to grow different varieties of Sunflowers
Not all varieties of Sunflowers are yellow! Although bright yellow is the most traditional, but you can also try orange, black and even pink! Some Sunflowers have been bred to grow in a pot and will only reach a couple of feet tall (30-- 60cm), whereas other giant varieties can easily reach 15ft (3-4m). Some of our favourites and most popular are:
Sunflower 'Pacino Gold' - a dwarf multi-headed variety, reaching 45-60cm, can be grown in pots
Sunflower 'Garden Statement' - about 90cm tall pale yellow with lots of petals
Sunflower 'Black Magic' - one of the darkest Sunflowers available, almost black in colour, reaches 1.2m
Sunflower 'Teddy Bear' - unique compact plant with unusual 'pom-pom' type blooms
Sunflower 'Red Sun' - a spectacular, coppery-red coloured flower that grows to 1.8m high. Ideal for the back of the border
Growing Sunflowers and how to use them
Sunflowers are edible. You can roast the entire Sunflower head with some oil drizzled over, roast only the seeds or sprinkle them on food. Sunflower petals are lovely in salads, and the tiny shoots can be grown as microgreens to add to soups, smoothies and stews.
Encourage wildlife by growing Sunflowers
The prominent seedheads are a magnet for bees and other pollinators - you might even find more than one bee sharing the nectar at the same time. Sunflowers also attract ladybirds and butterflies into your garden. If you leave flowers to dry and stand over the winter period, you'll find many winter birds feasting on the seeds and enjoying a a high energy treat.
We usually stock over a dozen varieties for you to choose from, so why not pop in and select your Sunflower challenge for this summer!