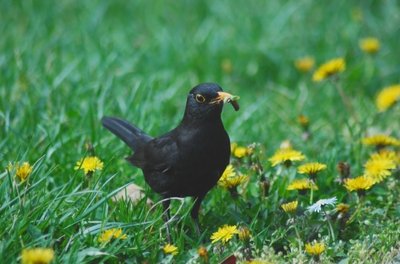 There are many ways to support wildlife in April and if you look after the wildlife it can have a massive impact on the success of your garden and your own well-being. Most of us already know the joy of watching birds visit the garden, spotting a bee pollinating plants and admiring the delicate butterflies, and so creating a biodiverse garden with wildlife in mind is good for you and the wildlife and the environment.
Support wildlife in April - your garden birds
Bird feeders are a great way to supplement bird food in your garden. Ideally, lots of native hedging full of berries, trees and shrubs will attract a whole host of birds, but many will still need supplementary feeding, especially when natural resources are scarce. From wooden bird tables to metal hanging peanut holders, there are many ways in which you can provide food for your garden birds. Make sure the bird food is of good quality and appropriate for your small garden birds, always keep feeders and surfaces clean and position them safely where predators can't reach.
Support wildlife with plants for pollinators
We all know that pollinators are essential for the environment and if you want to attract pollinators, you should try to include suitable plants in your garden. When choosing new plants, labels with a bee graphic normally indicates that your plant will be attractive to, and suitable for, pollinators. It's also a good idea to look around the plants you already have in your garden - can pollinators easily access the pollen in the centre of the flowers? Generally speaking, the simpler the flower, the easier it is for insects to get to the pollen. Whilst possibly the best-known pollinators are bees, don't overlook the many other insects including beetles, lacewings, butterflies, ladybugs that also help when choosing the mix of plants for your garden..
Support wildlife in April with a wild garden
Your garden doesn't have to be perfect. Even if you do prefer a formal garden you might have a corner or space that's out of sight where you can leave an area to grow wild. Tall grasses, unexpected wildflowers, and even clover in your lawn are all hugely beneficial to wildlife providing food and shelter and in turn they'll help make your garden even more successful.
At Merryhatton we've lots of solutions to help you support wildlife and our plant team are always delighted to help you choose what's best for you and your garden.