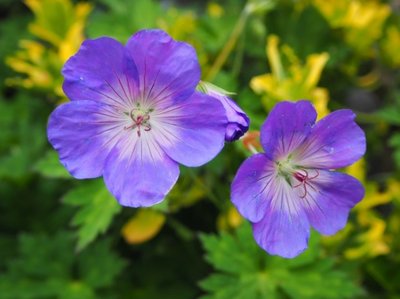 These five plants for a low-maintenance border are some of the best plants to grow when you don't have much time to look after them. Although most plants need some maintenance, the plants we mention here require minimum work whilst ensuring your garden looks pretty and great for pollinators.
These five plants are all for a sunny border, although most will also grow well in part sun.
5 plants for a low maintenance border
Geranium' Rozanne'
This hardy geranium was the winner of the RHS Plant of the Centenary at Chelsea Flower Show in 2013. The pretty blueish flowers stand out from the spreading foliage, as it grows fast to fill borders as perfect ground cover. Hardy Geraniums flower for an extended period from summer into autumn and can bring some fun to a low maintenance border.
Geum' Totally Tangerine'
The cheerful orange flowers of this Geum flower bloom from early summer to early autumn in full sun and well-drained soil. Keep deadheading the flowers and see how they look lovely together with any other plant with lilac/blue flowers. Geums grow well at the front of borders.
Hebe 'Heartbreaker'
An evergreen shrub with colour all year. The green leaves are creamy edged and turn to a bright pink colour from lower temperatures in autumn all the way until spring. You will also enjoy the purplish flowers in the summertime. For best results try to offer shelter from hard frosts in winter as the leaves might be affected by particularly ow temperatures.
Buddleja 'Rocketstar Flamingo'
Buddlejas come in a wide range of colours from white through to very deep purples, but we're particularly fond of this low-growing variety with it fabulous pink flowers. Although deciduous, it is fully hardy and an excellent plant for a low maintenance border. It's sometimes called the 'Butterfly Bush' because it is very attractive to pollinators, particularly butterflies.
Choisya 'Goldfingers'
Choisya, also known as Mexican orange blossom, is a bushy shrub that has colourful interests all year. The fragrance also uplifts you throughout spring and early summer, from green to yellow flowers and small white flowers, ideally planted where you will walk by or by a seated area to enjoy the cheerful shrub with scent. Preferring a fertile, well-drained soil, Choisya is a fully hardy plant that will shine all year.
At Merryhatton we have many pollinator plants in stock that are perfect for a low-maintenance border - pop in soon and our plant team will be pleased to help you choose the varieties that are best for your garden!