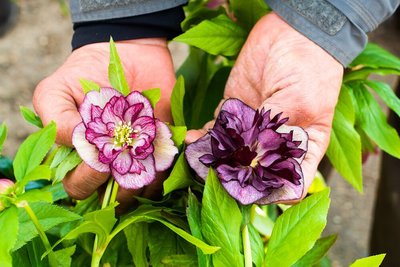 This how-to grow Hellebores guide will help you to produce the best Helleborus in the neighbourhood! Evergreen Hellebores are great plants for shady areas, and because they flower during the colder winter months, they brighten up the garden when there isn't much else in bloom. And if you're plagued by hungry deer and rabbits you'll be pleased to hear that they're not too keen on Hellebores!
soil
pruning
companions
other care
How to grow Hellebores in the right soil
They will grow well in well-drained soil, which is primarily moist and in part shade. Hellebores are fairly drought-resistant once established, but may need a little water until they are well rooted in. Ideally, ensure the soil is given an application of well-rotted organic matter and a balanced fertiliser during early spring to help them along.
Pruning
The plants are evergreen, but the foliage can look messy sometimes, so give them a tidy-up before new growth appears. Also, you can remove a few of the leaves to allow the flowers to be seen better. Prune the old flowers stems after they have flowered, although if you leave them to set seed, they will spread, and you will have more Hellebores! Remove all dead or diseased foliage during autumn or before if they look particularly messy.
Hellebores with companion plants
Hellebores can look pretty all on their own, but for a shady garden or area, they are excellent companion plants for many other shade-tolerant plants. Create a woodland vibe with Ferns, Pulmonaria and Hostas. For a blast of colour, add in Campanula, hardy Geraniums and Epimedium.
Other care for your Hellebores
Hellebore plants don't tend to grow so well in containers but for a seasonal display you could grow them in a container and then move them into a garden border afterwards. They're not keen on being divided, but allowing them to naturalise is a great way to fill a space. Hellebores are available in a wide range of colours from white to pink and dark purple so you can enjoy them no matter what style you are going for in your garden. They also suit contemporary and cottage gardens, attracting early pollinating insects.
We have a selection of these easy-to-care-for Hellebores at Merryhatton during the autumn and winter months - call in now and have a look!